---
WANTED: Balasundram 87-88 ...Ph.D (Nepal)
Now including an artist's impression of what Bala should look like....
Where is Balasundram ???

---
Football Action Pics
Wanna see our guys bopping around on the field? Here we go....

Pic 1: Somewhere in there you should find Boon Kit.
Pic 2: Team Captain Teck Woon hogs the ball all to himself...
Pic 3: Kim offside!
Pic 4: Kim showing off? After all, he's the leanest of the chubbier ones on field.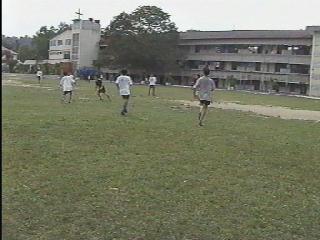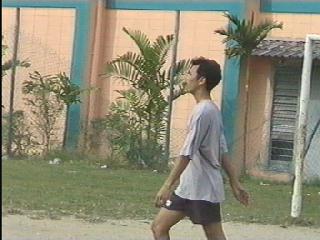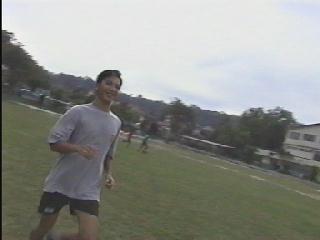 ---
Yok Pui, Lost in Mulu Caves?
Could be. Haven't heard a peep from him since the weekend. Last heard from Kit Meng that he was headed to those parts to collect some bird nests for us. Does anyone know of his whereabouts and more importantly, did he manage to get us our bird nests?
3 June 1998 UPDATE :
He's Back !! No details yet on our bird nests.

4 June 1998 UPDATE : (got this mail from yok pui..)
Got back on Tuesday 3pm. now recuperating from all the muscle aches.
No bird nest lah. u r thinking of Niah Caves... Only lot's of limestone and bat's dropping.
chk out my web site for pics. more pics to come. i have 68 shots.

To view a lifetime of bat droppings here's his site... Yok Pui's Droppings..pictures..
Based on his description..Mulu Caves sounds a lot like the old BB Little Boys Room..dark, damp and full of droppings..no?...vf


---

Soya Bean Milk MENG (soya milk moustache anyone..?)

25-May 1998:
NOT Fair! I ordered 6 bottles and only got 5! While Jeremy got all 6 as ordered. Unfair! Bias! Kayu! Stone! Kapas! (duh.)
Actually I like the delivery service bit. Got mine in a nice ice bucket...cool and ready for consumption. (hey Meng..the cheque had better be in the mail!)
* * *
This is an advert. Serious. Meng Sun is now producing soya bean for mass market distribution. It's true...I con you not. Still don't believe me? Buzz him and place your orders NOW! at mengfoo@pc.jaring.my
And it's soya bean, not soya sauce..in case any of you fellas want something "ham sup"


---
BBians Links
Original Alv's BB 88 Page with link to name list
Yok Pui's Place
Joon Chiew's Joint
Leong Kit Meng's


---

Smacked………
times.


Back to Victor's Vhatever