BBBSS Part(y)ing Class of 88
Nisi Dominus Frustra
Dec 1998
---
Address Change - Tat Chuen
Dear all,

Greetings. I hope that all is well with you and your family.

This is just a short note to let you know that I have resigned my appointment at the Securities Commission effective Friday, 16 April 1999. As such, after the close of business today, my phone and fax numbers and e-mail address at the Commission shall no longer be valid.

My new mailing address and contact details are as follows:

Block 22-1-D
SD Apartments
Persiaran Meranti
Bandar Sri Damansara
52200 Kuala Lumpur
Tel: +60 3 637 7213
E-mail: tat_chuen@hotmail.com

Best wishes and warmest regards,

Tat Chuen


---
FT Day football CHALLENGE
Date: 1 Feb 1998 (Federal Territory Day, Thaipusam Holiday)
Time: 8:30 AM
Venue: Kelana Jaya field

BB team to play Nai Shear's team.
Winners buy roti canai.
be there!


---
BB team beats Unknown Challengers 3-2 (13dec98)
Got this email from Teck Woon:

"Anyway, back to serious stuff, you missed a fantastic opportunity to video us in our victorious game last week against another bunch that is our standard. Apparently, the other team's supposedly opponents did not turn up (not even one guy!). So, we get to play with them in a friendly. We were losing 1-0 & lead 3-1 in the second half. Until someone gave a penalty away (...me...) & the final score was 3-2. "

Way to go, guys....finally getting something for all that running around eh? And Mr. Kong!, were you trying that maradona hand-thing? giving away penalty kicks?



---
WANTED: Balasundram 87-88 ...Ph.D (Nepal)
Now including an artist's impression of what Bala should look like....
Where is Balasundram ???

---
Football Action Pics
Wanna see our guys bopping around on the field? Here we go....

Pic 1: Somewhere in there you should find Boon Kit.
Pic 2: Team Captain Teck Woon hogs the ball all to himself...
Pic 3: Kim offside!
Pic 4: Kim showing off? After all, he's the leanest of the chubbier ones on field.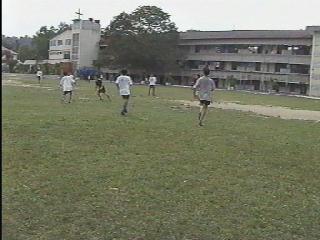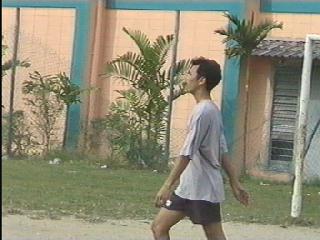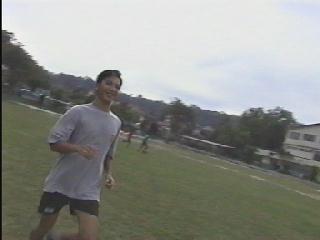 ---
Proposals for the Best Football Pitch
Shek Chen aka Simon :
Hey guys, I've found the ultimate field. The Commonwealth field (neighbour..free one..outside commonwealth stadium)..Fui Yoooooooo..excellent man!!! GREEEEEEEENN...like golf course..NO Monsoon drain (no need sponsor)....La nina free (no bertakung air one..)..so check it out

Kenneth Ole-Ole Kon :
Bandar Sri Damansara(SD) has a brand new public football field, I propose that we hold our matches there on Saturday mornings(note that Mahathir has declared alt Satudays off). The SD club is just beside and the babes from the pool always wave by. The SD club has lots to offer.......... Take a drive to SD this weekend and check out the turf. You'll be impressed, no mud and open dirt ......only good turf, view and babes. To get to SD you head for kepong from One Utama. Turn left at the Kepong cross juction traffic light. After 500m another left & left is the SD club, right after SD club the field.


---
Radzif in training for next World Cup
OK.OK. Not really, but he is in the football state of the world. Brazil. Actually he's over in Campinas (near Sao Paulo) and should be there until February next year. To contact him there, here's the direct email address radzifuddin.nordin@tess.net.br



---
BBoot BBall: New Venue for 2nd August - From Teck Woon
"Hi Guys! We had a committe meeting yesterday in the local coffee shop & it was a unanimous decision that we will play in Kelana Jaya field. For those who missed the meeting, sorry-lah! Present were BK, myself & Aaron. Yes, we have a new star-player but still need a lot of motivation to get up at 7.30 am!

Venue : Kelana Jaya field
Time : 8.00 am
Dress code : anything - strongly recommend to have boots!

How to get there?

Since most of us are PJ-Street-Wise type, will make it short/simple -

Let's say you're coming from Taman Megah / SS2 / Sea Park School towards the LRT Station in PJ(where used to be single story houses; demolished); head towards the big "SS3 Roundabout"; at that roundabout, make a heavy turn to "3 o'clock" direction; this will take you towards Kelana Jaya. Go slowly as you will be able to see 2 football fields on the left hand-side among houses(if you are not coming from the wrong direction!). Please find a way in thru the housing area. It is not easy to describe so many turnings. It is not far from the roundabout. So if you are going along the road after 3 minutes & don't see any football field, the you are in the wrong road.

Lastly, if you are still confuse over how to get there, please call or email us. "


---
Yok Pui, Lost in Mulu Caves?
Could be. Haven't heard a peep from him since the weekend. Last heard from Kit Meng that he was headed to those parts to collect some bird nests for us. Does anyone know of his whereabouts and more importantly, did he manage to get us our bird nests?
3 June 1998 UPDATE :
He's Back !! No details yet on our bird nests.

4 June 1998 UPDATE : (got this mail from yok pui..)
Got back on Tuesday 3pm. now recuperating from all the muscle aches.
No bird nest lah. u r thinking of Niah Caves... Only lot's of limestone and bat's dropping.
chk out my web site for pics. more pics to come. i have 68 shots.

To view a lifetime of bat droppings here's his site... Yok Pui's Droppings..pictures..
Based on his description..Mulu Caves sounds a lot like the old BB Little Boys Room..dark, damp and full of droppings..no?...vf


---

Soya Bean Milk MENG (soya milk moustache anyone..?)

25-May 1998:
NOT Fair! I ordered 6 bottles and only got 5! While Jeremy got all 6 as ordered. Unfair! Bias! Kayu! Stone! Kapas! (duh.)
Actually I like the delivery service bit. Got mine in a nice ice bucket...cool and ready for consumption. (hey Meng..the cheque had better be in the mail!)
* * *
This is an advert. Serious. Meng Sun is now producing soya bean for mass market distribution. It's true...I con you not. Still don't believe me? Buzz him and place your orders NOW! at mengfoo@pc.jaring.my
And it's soya bean, not soya sauce..in case any of you fellas want something "ham sup"


---
Mervin Sue got married.
That's Mervin Yee Teck Choy & Sue-Ann Wong.
Sue-ann was wearing a nice set of low heels. To match Mervin's height perhaps? Sorry I shouldn't make comments like that especially since I'm about Merv's level. Sigh*. Great wedding but I wish I brought me binoculars.
---
BBians Links
Original Alv's BB 88 Page with link to name list
Yok Pui's Place
Joon Chiew's Joint
Leong Kit Meng's
---

Smacked………
times.


Back to Victor's Vhatever